Why not treat yourselves and up grade into either the Kings Room or  Queens Room
for celebrating Birthdays,
Wedding Anniversaries or
just for relaxation
while visiting Bournemouth and local
surrounding areas .
You will enjoy a view over looking our Patio
area in the comfort of a sofa settee
and a flat
screen TV along with the facilities to make
tea and coffee.
Or even to relax in the Swimming Pool and
Sauna through out the day
(8.00am – 8.00pm)
or sit outside in
the Patio with refreshment from
The Lounge at reasonable prices.
 Sunday 26th November 2023 
Doors Open at 7.00pm
Gabrielle 8.30pm – Finish (running times are approx, may change on Day)
This event has been rescheduled. Please find a statement from the show promoter below:

Further to the postponement of the Gabrielle concert at Bournemouth Pavilion on 24th October, we are pleased to confirm that the concert has been rearranged to:

Sunday 26th November 2023
All tickets will be valid, and all other details remain the same.
Again, apologies for any inconvenience and hope you can all join Gabrielle on these new dates.
Gabrielle celebrates the 30th anniversary of the release of her era-defining smash hit number one single Dreams and perform highlights from her catalogue of hits, which also includeRise,Out Of Reachand Sunshine.
"Going on tour to celebrate 30 years of 'Dreams' is just amazing. I can't wait to party with everyone and celebrate the record that launched my career three decades ago! Time sure does fly when you are having fun" said Gabrielle.
Snow White & the Seven Dwarfs Pantomime
Saturday 2nd December 2023 until Sunday 31st December 2023 
Group Discounts
Excludes all matinees from 21st – 31st December and all evenings between 21st – 26th December
Got a Group Booking Panto enquiry? Visit our Group Panto 
Bournemouth's No.1 pantomime Snow White & the Seven Dwarfs, presented by Martin Dodd for UK Productions in association with Bournemouth Pavilion.
Mirror, mirror on the wall… What's the greatest panto of them all? Snow White & the Seven Dwarfs at Bournemouth's Pavilion of course…
The legendary Su Pollard will be playing the role of Wicked Queen in this year's production of Snow White & the Seven Dwarfs. Rest assured, she will be bringing her own brand of wicked humour to the production.
Su joins Noel Brodie, who is returning for his 9th hilarious season and this year playing the role of Muddles. Also returning as Dame extraordinaire will be Jamie Steen, who together with Noel had the Pavilion rocking with laughter during last year's record-breaking pantomime.
Join us for the greatest magical pantomime ever told; poor Snow White is doomed to live unhappily ever after with her horrid stepmother, the Wicked Queen. In true rags-to-riches style, Snow White manages, with the help of her madcap friend Muddles, to meet a handsome Prince and make her dreams come true.
With a beautiful princess, a jealous Wicked Queen, seven bumbling dwarfs, a naughty nurse, a hilarious jester and not forgetting a poisoned apple and a magic mirror, it's not to be missed!
Bursting with great songs, stunning dance routines and plenty of laughter, this is a truly magical treat for all the family. This festive extravaganza is on sale now so book your seats today to see Bournemouth's must-see Christmas show in 2023.
So Heigh-Ho… Heigh-Ho… It's off to Bournemouth Pavilion's panto we go!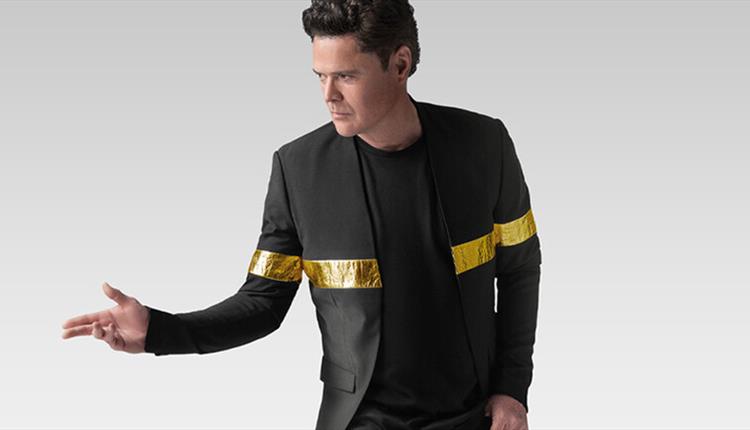 Wednesday 6th December 2023 
Starts at 6.30pm
CELEBRATING 6 DECADES IN SHOW BUSINESS. THEICONIC STAR BRINGS ELECTRIFYING LAS VEGAS SHOW TO THE UK.
Throughout an illustrious six decades long career, Donny Osmond has earned 33 gold records, selling over 100 million albums becoming a worldwide music legend. He has had 3 UK No 1s, 9 UK Top 10s, 13 UK Top 40s and spent a staggering 333 weeks in the UK charts. Osmond made history by celebrating 6 decades in show business with the release of his album, One Night Only, a live album accompanied by a DVD of his sold-out UK tour in 2017.
The 2023 tour marks 50 years since Donny and his brothers first performed in the UK. Following Donny's solo success with Puppy Love (it stayed at No.1 for five weeks), their arrival provoked scenes of hysteria not seen since The Beatles the previous decade.
The reaction to Donny and his brothers was always greatest in the UK. And that is why Donny has always loved touring here.
Donny said, "Performing in the UK has always felt like coming home and I'm thrilled to be returning for a tour at the end of this year. I'm bringing the whole cast from my new Las Vegas production that highlights six decades of entertaining. I can hardly wait to revisit those Osmondmania memories with everyone."
Donny's recent album, Start Again, marks a milestone 65th album for the performer. The 12 track pop/R&B Start Again is Donny's first full length solo album in 7 years and is entirely co-written and produced by Donny. The album was directly inspired by Donny's own unique career journey of constant reinvention over the course of his six decades as a world recognised performer.
Osmond's show has been quite a draw in Las Vegas. In fact, it was voted Best Production Show, Best Headliner and Best Family-Friendly Show for the 2022 Best of Vegas awards. Donny will bring the whole cast from this critically acclaimed Vegas show for this electrifying UK tour.
FRIDAY 8TH DECEMBER 2023
                         Start 18.30pm – 21.30pm
Leona's evening of Christmas classics and greatest hits follows the release of Christmas, With Love Always, the special repackaged release of her 2013 studio album Christmas, With Love.
Under 14s must be accompanied by an adult. We can not issue refunds to under 14s who not accompanied by adults.
Seats £73.35 (£65.00) B – Block
Seats £51.35 (£45.00) TER -Terrance
Seats £34.85 (£30.00) SBL – Side Balcony left
More information about Leona Lewis tickets
VENUE AGE RESTRICTIONS
STANDING CONCERTS
No Under 12's to stand
12 – 13 years standing to be accompanied by an adult (ratio 1 adult to 4 children)

14 years and over are able to stand without an accompanying adult at parents discretion
SEATED CONCERTS
No age restriction unless advertised as unsuitable for certain ages i.e. x
rated comedian etc
All children under14 years must be accompanied by an adult.
1 adult may supervise a maximum of 10 children under 14 years.
14 years and over are not required to have an accompanying adult
Children under two years of age will not be admitted to the Performance un
COVID T&Cs: Admission to this event is at all times subject to any terms, conditions or rules of the Promoter and the venue operator. You must also adhere to the Promoter or venue operator's specific terms of entry and protocols surrounding Covid-19 – this could be, but is not limited to, an obligation to provide negative lateral flow tests or provide vaccination certificates. If you do not comply with any Promoter or venue terms, conditions or rules then the Promoter or venue operator may refuse admission or require you or other ticket holders to leave the venue and you will not be entitled to a refund.
Madness: C'est La Vie
12th December 2023
18.30pm – 20.30pm
Known for their raucous live sets, the C'est La Vie tour will be teeming with hits from the nutty boys' unrivalled back catalogue along with some songs from the forthcoming new album.
Responsible for some of the most well-known tracks of the 1990s including Life of Riley, Lucky You and Pure, Lightning Seeds will be the special guests.
Madness said:"WOT-a-tour this promises to be! We can't wait to be back out on the road, doing what we love best."
Madness famously emerged from the backstreets of Camden Town in the late 70s and recently released a three-part original docu series with TV channel AMC about the beginnings of the band in the area. Before We Was We: Madness by Madness, chronicles the rise of one of the most loved bands in British culture.
Throughout their career, Madness have had 10 UK top ten albums, 15 top ten singles and have won a multitude of awards including a prestigious Ivor Novello. They've performed on the top of Buckingham Palace as part of the Queen's Jubilee celebrations and set the record for the biggest ever audience for the BBC's Live New Year's Eve Broadcast – the most watched TV music event of 2018.
14th December 2023
19.00pm – 22.00pm
Jaggers comedy Club Christmas Sessions
Celebrate this Christmas season at Bournemouth's longest running and best comedy show